3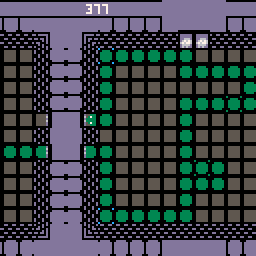 Endless Snake
Update: implemented reset function
Hey there,
my first Pico-8 prototype is kind of playable and I finally want to share something!
So here is the first level.
Concept
Endless Snake is a mix of skill-, memory- and puzzle-game concepts taking place in a dungeon.
It is a hard try and error game, slowly revealing the level piece by piece.
Controls
You control the snake with the arrow keys.
By pressing X you can sacrifice one life and reset the snake to the last door used.
The map is a square of 3x3 rooms
Goals
Collect colored skulls matching the colors of the doors to open them and advance further.
Plan your way as you might need to come back to a room again.
Kill all spiders to open the last door and collect their eggs to get extra points.
Spiders produce eggs over time, more eggs more bonuspoints
Previews/ Level-Walkthrough
Check me out on insta: https://www.instagram.com/yesyoorgames/
A walkthrough video of the level is also posted there. :)
Have fun!
P#69794
2019-11-11 00:52 ( Edited 2019-11-15 23:31)

&nbsp 7 comments &nbsp